The Cruise Terminal Rotterdam
Are you planning to take a cruise from the beautiful city of Rotterdam? That is possible. The large terminal is located on De Maas, near the center and next to the Erasmus Bridge. The Cruise Terminal is located near a historic site, namely the former headquarters of the Holland America Line: Hotel New York. At the time, this historic departure and arrival terminal was the point from which Holland America Line steamships brought adventurers to New York.
The Cruise Terminal Rotterdam | Impression
The Cruise Terminal Rotterdam, which is an industrial heritage, has been transformed to meet the demands of the 21st century and has been used for over 10 years as a venue for cool parties, conferences and major fairs. The building is notable for its remarkable construction, the arched construction with large glass fronts. The terminal can be divided into five parts of 4 to 8 meters high and can be rented out, making it possible to organize parties, conferences and fairs for 100 to 3,000 people. The meeting rooms are equipped with free Wi-Fi.
Hotel tips
It is always advisable to stay the night before the cruise in a wonderful hotel near the cruise terminal. Below is a list of hotels near the cruise terminal.
The Cruise Terminal Rotterdam | Accessibility
The Cruise Terminal Rotterdam is easy to reach by public transport. From Rotterdam Central Station it is about 15 minutes by tram or metro. You then get off at Wilhelminaplein.
Have you decided to go by car? That is no problem at all, because our Maastoren parking garage is a 10-minute walk away from the cruise terminal. You can park there for an affordable rate during the week and take advantage of a super offer at the weekend. Would you like to know more about the offer and the parking garage? Then read on.
Parking garage APCOA PARKING Maastoren | Route
Carefree parking is of great importance to us and easy accessibility is part of that. Click on this link to record the route to the Maastoren car park.
Parking for 24 hours at the weekend: € 10.00!
Parking in Rotterdam can be very expensive. Especially if you decide to park in the center. In the weekend you can park cheaply near the Cruise Terminal. You can park for a maximum of 24 hours for only 10 euros. If you park for less than three hours, you pay the regular rate. More information? Click here.
APCOA PARKING Maastoren is close to:
Cruise Terminal Rotterdam
HappyItaly
The court
The New Government Office
Various catering establishments on the Wilhelminapier
Parking Maastoren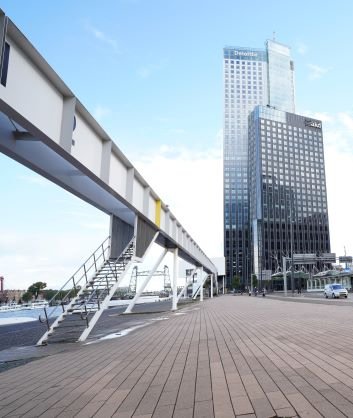 Parking Maastoren
Wilhelminakade 101
3072 AP Rotterdam