Reach your audience at the right moment

Even advertising experts are often unaware of the versatile advertising options provided by parking surfaces. In this relatively advertising-free environment you will reach a lot of customers directly before a potential purchasing decision. APCOA provides the ideal solution for every sector, since the advertising surfaces are for example located near shopping centres, international hotels, banks, insurance companies and event areas.
Advertising possibilities
A0 poster frames
These frames are situated on very busy areas such as payment terminals, entrances, exits and staircases.
Parking ticket advertising
With parking ticket advertising you can show your message three times during the parking process:
Upon entering the garage.
During the payment at the cash payment machines.
When driving out of the garage.
Sampling
Distribute your give aways or flyers at the entrances and exits and shorten the moment between sampling and buying.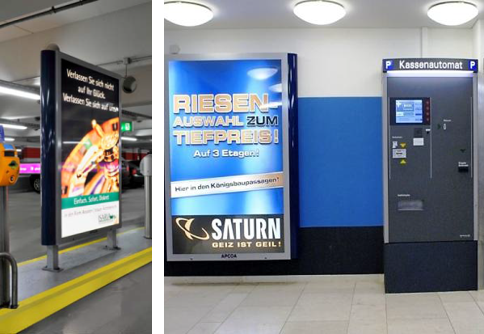 Intrested?
We would like to inform you about the different possibilities. Please contact us for more information, conditions or reservations or by phone via 085-049 98 99.