APCOA PARKING Prins & Keizer
,
1017 HL Amsterdam
,
Center
+31 (0)85 049 98 99
Prinsengracht 927
Quick information
4
Electric Car Charging Spaces
Products
APCOA Flex Card
Park now and pay monthly afterwards. Perfect for flex workers and part-timers
Day tickets (for companies)
Relieve your visitors from parking worries and offer them a day ticket (valid for 24 hours).
Minimum purchase: 50 tickets.
Time tickets (for companies)
Minimize the parking costs of your visitors by offering them a time ticket (available for 1, 2 ,3 or 4 hours).
Minimum purchase: 50 tickets.
Parking Tariff
Maximum daily tariff Saturday- Sunday: € 20,00!
You pay per 28 minutes until the maximum daily rate is reached. No special card is required to take advantage of the maximum daily rate on weekends.
You pay € 3.00 per 28 minutes and possibly a part of each subsequent 28 minutes.
On weekday nights you pay a maximum of € 15,00!
Tariff start from 3 hours parking. If you park less, you will pay the regular tariff
Valid from Monday until Friday from 18.00 until 06.00 hours.
Charging electric vehicles:
€ 0.49 starting rate
€ 0.36 per kWh
Car Park Description
APCOA PARKING Prins & Keizer is located on the Prinsengracht in the middle of the center of Amsterdam. This car park is close to many hotspots such as Paradiso, Melkweg, DeLaMar Theater and the shopping area with the popular flower market and Kalverstraat. You can also park here against attractive rates for the Pathé cinemas. The parking garage is open 24/7, has charging points for electric cars, parking places for the disabled and an elevator.
Attention: From November 2020, only diesels with emission class 4 and higher may still drive within the environmental zone.
POIs nearby
Melkweg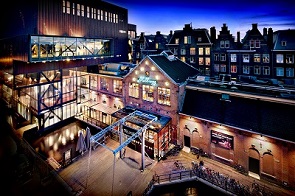 Paradiso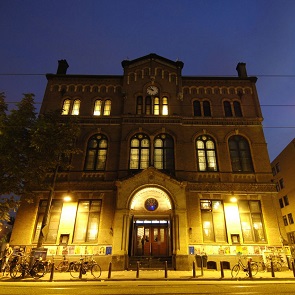 DeLaMar Theater
Bloemenmarkt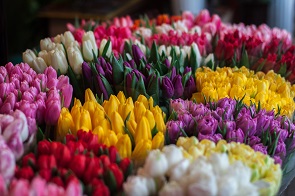 Kalverstraat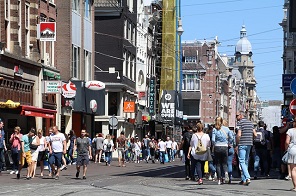 Pathe Tushinsky
Leidseplein
Koninklijk Theater Carré