24 hour weekend parking: € 20,00!
Valid on Saturday and Sunday.
Minimum parking duration of 3 hours.
Tariff starts Saturday at 06.00 hours and ends Sunday night at 23:59 hours.

On weekday nights you pay a maximum of € 15,00!
Valid from Monday until Friday from 18.00 until 06.00 hours.
Minimum parking duration of 3 hours.


Parking Prinsengracht? APCOA PARKING Prins & Keizer is located directly on the Prinsengracht!
The Prinsengracht in Amsterdam is one of the three main canals. One of the most famous buildings on this canal is the Anne Frank House with almost a million visitors a year. Other famous sights along or near this canal are RK church de Duif, the famous seven bridges, Rockclub The Cave, Dikker and Thijs and the oldest milk factory. Café de Fles, on the corner of Vijzelstraat / Prinsengracht, is also worth a visit. In this typical old brown cafe they serve many kinds of beer and play good blues music. All these sights are located near the Prins & Keizer parking garage. This parking garage is therefore an ideal base for a day in Amsterdam!

Parking garage Prins & Keizer offers cheap rates for parking in the center of Amsterdam. During the week you can park every evening and night for only € 15. In the weekend even 24 hours for € 20. This way, parking in Amsterdam remains affordable and you can even turn it into an entire weekend at low parking costs. Who wouldn't want to park cheaply around the Prinsengracht?

APCOA PARKING Prins & Keizer is easily accessible and open 24/7. Ideal for the entertainment crowd. This parking garage has the entrance next to Prinsengracht 927. Are you coming with an electric car? No problem! There are sufficient charging points for electric cars. In addition, we also offer parking spaces for the disabled and an elevator.
Visit the nine streets! These picturesque shopping streets in the canals of Amsterdam connect the Prinsengracht, Herengracht and Keizersgracht. Here you will find the ancient architecture, the hippest shops and special restaurants.
Visit Prinsengracht?
Prinsengracht: Direct accessible from Prins & Keizer!
24/7 Open
140 Parking places
Electric car charging
Parking places for the disabled
Lift
Clearance hight: 1.70 meters
Parking Prins & Keizer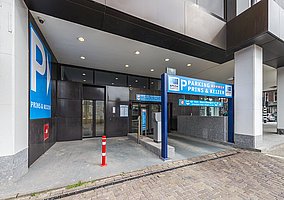 Entry next to Prinsengracht 927
1017 HL Amsterdam