APCOA PARKING Group is Europe's leading parking operator
With 50 years of parking experience and an annual turnover of more than 1 billion, APCOA PARKING distinguishes itself from its competitors. We manage and operate over 1.5 million parking spaces in more than 9,500 locations in 13 European countries. This includes parking spaces at 1,800 city and shopping center locations, 400 hotels, 150 hospitals and 58 European airports. With our "asset light" business model, APCOA PARKING is the trusted partner that maximizes value for private and public real estate owners.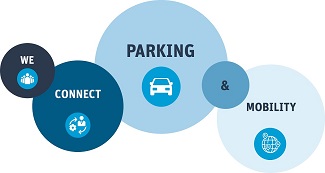 This is why you choose APCOA PARKING!
Our 5 distinguishing factors:


We manage parking facilities for private and public parties.
We maximize revenue for our customers, investment partners and parking real estate owners.
We connect consumers, cars and car parks through technology and services.
We provide our customers with optimal support in design, marketing, pricing, equipment, operation, maintenance and quality management.
We offer customised solutions for sectors such as travel, events, retail and healthcare.
50 years of APCOA PARKING